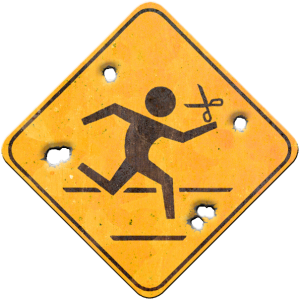 Running With Scissors CEO Vince Desi talks about the past, present and future in an interview with The Gaming Ground.
Robin TGG
How, when, where and why did the Running With Scissors studio happen?
Vince RWS
Here's a little history about RWS. A group of great folks who were making kids games for major licensors like Disney and Sesame Street back in 1996 in Tucson, AZ came together and became the basis for RWS. We were making kids games for about 5 years and simply wanted to make a game that we wanted to play ourselves.
Robin TGG
When you released "Postal 1" on the video game market back in 1997. Did you ever for one second believe that the game would become a cult classic among Gamers over time?
Vince RWS
Ha! You gotta be kiddin. We were looking for a way to move into entertainment, away from educational games. The instantaneous insane reaction from positive fans to government and media critics all was overwhelming at the time
Robin TGG
How did you even come up with the idea for Postal in the first place? And how did Running With Scissors coop with the mixed reviews, the banning of Postal in some countries (Australia and Germany, for example) and the media bashing of your game? (in Sweden Postal was labeled as a mass murdering simulator back in 1997-1998).
Vince RWS
The genesis for POSTAL was rooted in an arcade game called Robtron. We had it in our office and everyone loved playing it whenever they could. I wanted it to be different than FPS games like DOOM at the time and absolutely didn't want it to be a zombie or alien game. We live in southern Arizona and the natural environment here is very unique from the architecture to things like ostrich farms, mining towns and military bases so it was a natural thing to make the theme based on our own unusual and unique atmosphere and culture.
As for the mixed reviews the only thing to this day that I've ever cared about is what our fans and gamers say. We had great support from the beginning even the gamers that didn't like POSTAL were on our side and believed we should be able to publish it. The banning and government interference was totally unexpected. Quite frankly I couldn't believe it and it really pissed me off. I mean we're an American company living in the land of the free (unless the government and media decide to peg you and evil). I've always believed that what we were doing was simply having fun, no special agendas, just good old who gives a fuck fun. I put everything I had into POSTAL and as long as we had the support of the public I wasn't about to let a foreign government stop us.
Robin TGG
How did you come up with the name Running with Scissors?
Vince RWS
It was in the mid nineties and most dev teams had very generic names. I wanted to give our team a unique identity. Since we were known at the time as a developer of kids games I felt it would be a good thing to start a new company with a new image. Here in America, when I was a kid growing up it was a very common phrase for moms to tell their kids 'dont run with scissors', kinda like a warning not to do anything dangerous. Well that was perfect for us so we just modified it to Running With Scissors.
Robin TGG
I had almost forgotten that you once worked on a title called "Flesh and Wire". What was that game all about? And why was it canceled?
Vince RWS
Yeah that was after POSTAL got cancelled, we actually had 2 other original games in development, but financial reality simply didn't allow us to continue. It was sci-fi based game that had a blob as the main character, I really liked it, who knows maybe some day we'll take another look at it.
Robin TGG
Who came up with the Postal Babes idea? Personally, I love it! And I really hope that you will continue to add new babes to your homepage in the future.
Vince RWS
Years earlier I had worked with models in NY and I've always pursued doing the things I love and combining them seemed like the perfect match. I created the Postal Babes for an E3 show in LA around when POSTAL 2 came out. We've had a lot of fun doing this and several of the girls have made it into Playboy and other magazines.
Robin TGG
When Postal Redux hits the market later this year, it will be your 9th Postal title to date. So I´m quite curious to know if Running With Scissors ever had any thoughts on creating a game that´s based outside of the Postal universe?
Vince RWS
Ha like I said we had tried earlier after the original was cast as evil. We've got several new ideas and I think probably after POSTAL REDUX it will be our next major effort.
Robin TGG
What went through your mind when a Swedish distributor of Postal 2 ended up in court for selling your game back in 2005? Especially since the person in question could have gotten himself a two-year prison sentence (the offended was prosecuted with "illegal depiction of violence", a crime falling under the Swedish freedom of speech-act).
Vince RWS
I was totally disgusted and felt horrible. I was contacted by folks on his behalf and I gladly assisted them in every way I could to help in his defense. Fortunately, every time we've been taken to court we've won.
Robin TGG
What´s your take on political correctness, the SJW movement, feminists and the current situation with Anita Sarkeesian wanting to police game developers worldwide?
Vince RWS
I'm a very strong believer in Live and Let Live. As for political correctness I think its total bullshit. I think Hypocrisy is just about the worst trait a person can live by. Rich people with armed bodyguards against my rights to carry a firearm, teachers that teach their opinions and not facts, women screaming for equal rights when it suits them, minorities claiming special privilege when their not even the minority, I can go on and on. I prefer honest politics and keep it simple. No bullshit just speak freely and accept others opinions including those who don't agree with you. SJW really?
I'm all for social justice, but don't tell me I'm wrong or bad, or stupid because I don't agree with you. Every person, group, organization regardless of cause needs to be open and honest and walk the walk not just talk the talk when it works for them. As for feminism, where would we all be if it weren't for our mothers (and fathers). I luv women and I'm very proud of the POSTAL BABES. I'm all for equal rights for everyone, not just gender but also race and economics, basically its all about OPPORTUNTIY. Anita was an interesting case, I never met her but I do support her right to speak her mind, although I think her agenda is not really about freedom.
Robin TGG
As I mentioned in my article about "Postal Redux", the original "Postal" game actuallyworked as a therapy kind of thing for me (one could say that the game literally saved me from myself). So I´m quite curious to know if anyone has shared any similar experience on this matter with you before? I ask you this because the media has always been very fast on the trigger to blame violent games for pretty much everything there is (the media tends to focus a lot on the negative sides, not the positive sides of video games).
Vince RWS
I was very pleased to read your article and especially how you felt about POSTAL. Over the years, starting with the original POSTAL, I've often received compliments and comments like yours. I once got an order from a Psychologist who ordered a dozen copies for his patients. I think its important to point out that the sad thing about our society and the media is that people are lost and feel the need to belong and all too often are mislead and fall victim to the perspectives of others. All I'm saying is Live your own life, form your own opinions and believe in Yourself. The world is not perfect and neither are people.
Robin TGG
Was there any particular reason behind why you decide to make a Remake of the original Postal game now? Or did you just feel that the time was right for it? Because personally, I´ve been waiting many years for this to happen.
Vince RWS
We started thinking about that next year 2017 will be the 20th Anniversary, that's crazy and so it just made sense. Of course the other main reason was our fans, we are truly blessed with the most loyal fans on earth. I felt that being able to bring the original back using a new engine (Unreal 4) would give our old fans a treat and for all our new fans a true taste of video game history with todays best gaming technology.
Robin TGG
Will Postal Redux offer an even more violent gameplay experience than the original game? Or will the gore level remain the same?
Vince RWS
It's never really been a gore thing for me. I've always seen the original POSTAL as a simple shoot'em up blast your ass off fast paced game. POSTAL REDUX will offer some new things like Rampage mode and a new carnival level. The gameplay is significantly improved with better controls for easier maneuvering giving the player a better experience.
Robin TGG 
What was your first thought when you heard about Destructive Creations "Hatred"?
Vince RWS
Holy shit! That was my first thought. I got a bunch of emails from fans asking the same thing. I support everyone's right to make their own music, films, comic, art, books and Games. I have great respect for them because they did what they wanted, they didn't succumb to the wishes of the elite and whether you like the game or not, you have to give them credit for being creative and delivering on their dreams.
Robin TGG
What´s your honest take on The Postal movie and Uwe Boll?
Vince RWS
In short it was funny but could have been a lot better. From an editorial perspective it was too long, some scenes should have been trimmed to cut, especially to deliver key punch lines and storylines. Uwe himself is a nice guy, and I give him a lot of credit for doing his thing.
Robin TGG
Have there ever been a moment when you thought that "Maybe this is a little too much?" or "Maybe we shouldn´t do this"? Because I never really felt like you´ve been holding anything back in any of your previous titles, nor that you have had any regrets of anything.
Vince RWS
"I regret nothing" says it all.
Robin TGG
I´m curious to know how the Milo Yiannopoulos "Postal 2: Paradise Lost" collaboration came around? (Milo is an NPC character in "Paradise Lost") And did you read Milo´s review for Paradise Lost? If so, what did you think about it?
Vince RWS
During development some team members started tweeting him. It began with the idea of him doing voice acting and then it just evolved. RWS has been creating interesting characters in the POSTAL series from our mascot Champ to including child star Gary Coleman. In PIII we added Village People Cowboy Randy Jones and porn star Ron Jeremy, so unique and different is natural to us, Milo was an organic addition and great to work with. His piece on us was an honest expression of his thinking and I'm fine with it.
Robin TGG
What´s Running with scissors plans for the future? And what are your own expectations and hopes for Postal Redux?
Vince RWS
I feel real good about POSTAL REDUX. It offers a very different experience and I'm real excited about the opportunity to bring it to new younger fans. We've got people that are children of original POSTAL players now in their teens, this is an unbelievable phenomenon. RWS has new concepts in the works and we can't wait to get down to work on them. The future is what you make it. Thanks for the chance to speak to gamers everywhere.
Originally posted on The Gaming Ground website.