"The game every gamer wanted… and no one else dared to make"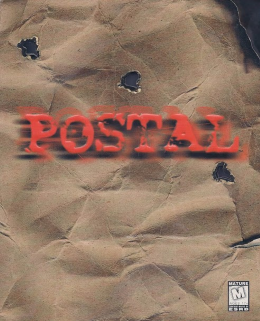 RELEASE DATE
November 14, 1997
PLATFORMS
Windows / Mac / Linux / Android
ENGINE
RSPiX
ORIGINAL PUBLISHERS
Ripcord Games (POSTAL)
Micromouse (Super POSTAL)
Welcome to Paradise… Arizona. They're out to get you. Or are they? It doesn't matter. You don't have time to think, only time to kill.
Take control of The Postal Dude in his infamous first outing! POSTAL is an isometric shooter filled to the brim with fast-paced explosive action. Blast, maim and fire-bomb your way through 17 unsuspecting locales, from a small town to a heavily guarded military complex. Don't get too crazy – this killing spree is anything but senseless. Out here, strategy is key and the locals are packin'
Game Features
It's time to go POSTAL!
Blast your way through 16 levels, plus an ending level! Beginning from your humble Home, eliminate hostiles in areas from the Trailer Park to the City all the way to the Air Force Base. All of which play over beautiful hand-painted backgrounds.
9 devastating weapons: Defend yourself with varied tools of mayhem. Take aim with the Scatter Gun! Clear out rooms with Grenades, Mines, and the almighty Napalm Launcher! Whip out Heatseeker Rockets for those big groups!
Wide range of foes: Defend yourself from Molotov-tossing Grenadiers, gun-toting Infantryman, rocket-firing Heavy-Weapons Experts (don't forget to duck!), and angry Ostriches! Non-stop, guns-blazing, adrenaline-fueled action!
Newly updated with a slick twin-stick control scheme, making the carnage that much more fun, on Steam and Android devices.
Development History
1997
POSTAL is released to the unsuspecting public. The hate mail was instant and almost more vicious than the game itself.
POSTAL is banned in 14 countries and blacklisted in America.
A Japanese-exclusive release, called Super POSTAL is released with Japanese vocal dub and two exclusive levels – Tokyo and Osaka.
RWS release a Chrismas patch with an exploding present-tossing Santa – along with a contingent of reindeer – into the game.
1998
POSTAL: Special Delivery, an expansion pack for POSTAL, is released. It would be bundled with all official releases of POSTAL from now on.
2001
POSTAL and Special Delivery get bundled together in a retail compilation titled POSTAL Plus.
2003
POSTAL Plus is bundled together with POSTAL 2 Demo and a POSTAL 2 bumper sticker, and released as POSTAL: Classic and Uncut.
2009
POSTAL is released on GOG as POSTAL: Classic and Uncut.
2013
POSTAL gets released on Steam, along with many updates to fix problems on newer hardware and improvements to sound quality.
2015
POSTAL is ported to Android phones, and released on the Amazon Appstore, after being denied release by Google's Play Store. This release gives players a dual-stick control scheme, allowing independent movement and aiming.
The Steam version of POSTAL is updated with a similar control scheme to the Android version, allowing players to play the game as a twin-stick shooter with their keyboards or controllers.
2016
POSTAL is finally made open source, and thus its source code is released to the public. A Dreamcast port is formally requested of the community, by RWS.
Press & Awards
PRESS
"[..]the fact remains that Postal has upped the ante as far as what is accepted in the mainstream gaming world."
"It's irreverent and gruesome to say the least, not to mention a little disturbing."
"Going Postal, Bloody computer game's gun-toting character angers mail carriers"

– San Francisco Chronicle, Monday, Nov. 10, 1997

"Violent computer game sparks call for censorship"

– The Sunday Times (London), October 5, 1997

"Furore on violent game"

– Herald Sun (Australia), Wednesday, Oct 1, 1997

"Call It Lethal Delivery"

– Newsweek, Sept. 22, 1997

"Blood on the Net: Computer Gamers See Red"

– The Wall Street Journal, Thursday, Aug. 7, 1997

"'Postal' game goes gory, Computer 'dude' massacres citizens, commits suicide"

– The Arizona Republic, Tuesday, Sept. 2, 1997

"Postal puts players in a blood lust, Ultra-violent video game's demo is ultra-popular"

– The Tribune, Sunday, Aug. 31, 1997

"Tucson firm's mega-violent Postal a big hit"

– The Arizona Daily Star, Monday, July 9, 1997
AWARDS
2010, GAMERANX.com – #25 Top 25 Goriest Games of All Time – POSTAL
2007 Games Radar, Top Ten Banned Games, POSTAL #1
2006 PC World, The 10 Worst Games of All Time, Runners-Up – POSTAL
2004 PC Zone (UK), POSTAL rated #5, The 50 Most Controversial Games Ever
2002, PC GAMER, POSTAL rated #2 Most Controversial Game of All Time
1998, Software Publishers Association: Excellence in Packaging – POSTAL
1998, Academy of Interactive Sciences: Best Use of Audio Nominee – POSTAL
1998, Academy of Interactive Sciences: Best Soundtrack Nominee – POSTAL
1997, E3 Best of Show: Gold Medal – POSTAL
1997, All About Games magazine, Silver Medal, Arcade – POSTAL
1997, Entermedia: Editor's Choice Award – POSTAL
1997, Washington Post: Golden Fez Award – POSTAL
1997, Game of the Month.com: Game of the Month Award – POSTAL
1997, Game Genies: Granted Wish Award – POSTAL
Credits
Developed by Running With Scissors
Executive Producer
Vince Desi
Project Director
Mike Riedel
Art Director
Randy Briley
Level Design
David De Gasperis
Steve Macomber
Steve Wik
Postal Programmers
Bill Harman
Jonathan Isabelle
Visual Effects Programming
Jeff Diamond
Associate Producer
Amy Searcy
Grant Collier
3D Engine, Blitters and Alpha Effects
Jeff Diamond
Character Logic, Navigation and Weapons
Bill Harman
Player Logic, Particle Effects and User Interface
Jonathan Isabelle
Shell, Networking and Mac Version
Mike Riedel
RSPiX Library Programming
Jeff Diamond
Bill Harman
Jonathan Isabelle
Mike Riedel
Additional Programming
Steve Andrusyszyn
Jon Beck
Alix Chen
Paul Lin
Andy Muir
3D Animation
Randy Briley
2D Animation
Steve Wik
Background Design and Layout
David De Gasperis
Steve Macomber
Steve Wik
Background Art
Jared Binder
Randy Briley
Mik Coldron
David De Gasperis
Steve Macomber
Cutscene Design and Art
Randy Briley
Additional Art
Jared Binder
Steve Macomber
Steve Wik
Game Design
Randy Briley
Jeff Diamond
Bill Harman
Jonathan Isabelle
Mike Riedel
Steve Wik
Story
Mike Riedel
Steve Wik
The Pain Killer
Cutscene Text
Vince Desi
Steve Wik
The Pain Killer
Music and Ambient Sound Design
Christian A. Salyer
Additional Sound Effects
Amy Searcy
Voice Talent
Rick Hunter
Tony Agee
Andrea Barrett
John Barrow
Randy Briley
Leah Dalton
Jeff Diamond
Vince Desi
Bill Harman
Brandon Howell
Stephanie Howell
Caryn Isabelle
Douglas M. Levy
Paul Lin
Jerod Lollar
Verne Love
Celina Martinez
Kim-Loan Nguyen
Mike Riedel
Scott Riedle
Tina Naughton
Ruben Raminez
Paul Rogue
Amy Searcy
Ruben Sierra
Burney Starks
Debbie Tasler
Steve Wik
Testing
Absolute Quality, Inc.
ST Labs
Special Thanks
Mate Muller
Matt Nickerson
2013 Update
Ryan C. Gordon
Jon Merchant
Mike Jaret
Joe Pagac
Bob Richardson
Android Port
Emile Belanger
2015 Update
Rick Foltz
Emile Belanger